INTRODUCTION
Pine Labs Private Limited (herein after referred as "our" or "we" or "Pine Labs"), is inter alia a leading provider of retail POS (Point of sale) solutions that simplify payment acceptance, while creating business opportunities for Issuers, merchants and brands to connect with consumers.
What makes Pine Labs a market leader today is constant innovation to develop new robust solutions which go beyond payment acceptance and helped retailers to acquire and engage customers at Point of Sale. Pine Labs merchants and partners get a robust platform to create new revenue streams with best in class value added solutions like Instant EMI, Instant Discounts, Cash Back Programs, Pay by Points, Loyalty Solution, Corporate Gift Solution i.e. Pine Perks, Targeted Promotions, Dynamic Currency Conversion etc.
Pine Labs has set up a Pan-India presence and there are various teams categorized according to different work locations and hierarchies. The various team including the Sales, Stock, Central Deployment, ME Setup, Customer Support & Operations are jointly responsible for handling the customer service requests registered at the first instance and ensuring the customer services are delivered within the desired SLA and timelines. The customer services and operations relate to various service requests including but not limited to the New POS Installations, DE installations, ReInstallation, and Upgrade or handling Post Deployment Support issues like Paper Roll Dispatch, PRS/Network Connection Issue, and Hardware Damage etc.
SCOPE AND OBJECTIVES
A Customer Complaint is an expression of dissatisfaction from a Customer, requiring a response, about business activities performed by Pine Labs. A Customer is the focus of the organization's products, services and people and an organization's growth is largely dependent on the satisfaction of the Customer.
This policy outlines a structured grievance redressal mechanism to inform customers about the various channels available to them to escalate their complaints with respect to any grievances arising from availing the services of Pine Labs.
This policy details a mechanism for receiving and redressing Customer grievances courteously, promptly and satisfactorily.
There are various channels, where a Customer can lodge his/her grievance –in person, by telephone, through website & email. If a complaint received by any of the above channel are not resolved within the prescribed time frame or he/she is not satisfied with the resolution offered, he/she can approach Customer Service Head of Pine Labs through email/ call and if still not satisfied by the response he/she can approach Nodal officer appointed by Pine Labs.
In case, the Customer is not satisfied with response/ resolution of Pine Labs, he/she can reach to Ombudsman with his/her complaint or resort to other legal avenues for grievance redressal.
PRINCIPLES GOVERNING THE GRIEVANCE POLICY
Pine Lab's policy on grievance redressal is governed by the following principles:
Customer shall be treated fairly at all times;
Complaints raised by customers shall be attended with courtesy and in time.
Customers are provided with effective and satisfactory resolution within an acceptable time period
Customers are fully informed of avenues to escalate their complaints / grievances within the organisation and their rights to alternative remedy, if they are not fully satisfied with the response to their complaints.
GUIDELINES FOR HANDLING GRIEVANCES
Guidelines for handling grievances / complaints of Customer has been put in place as below to ensure adequacy of response, response time, prompt closure, entry into a tracking system and analysis of recurring issues and trends.
While handling the complaints record keeping requirements and local laws and regulations must also be adhered to. All Customer interaction related to the complaints/ request should be preserved for future reference as per the System of Pine Labs. All complaints/grievance are recorded in our Customer Relationship Management (CRM) system.
Customer are provided with the Customer reference ID to facilitate follow-up, if required for future references.
Acknowledgment is provided to the Customer for complaints received.
Timelines are defined for the resolution.
Close looping is done by communication of resolution to the Customer
CRM is updated with every communication – i.e. email/Call to the Customer
Periodic reporting and review by senior management
Analysis of recurring issues and trends
In compliance with the Circular DPSS.CO.PD No.629/02.01.014/2019-20 dated September 20, 2019 Turnaround Time (TAT) and Customer compensation for failed transactions using authorised Payment Systems is tabled below* for applicable clauses:
Sl.no.
Description of the incident
Framework for auto-reversal and compensation
Compensation payable
Timeline for autoreversal
I
II
III
IV
1
Card Transaction
a
Point of Sale (PoS) (Card Present) including Cash at PoS
Account debited but confirmation not received at merchant location i.e., charge-slip not generated.
Auto-reversal within T + 5 days.
₹ 100/- per day of delay beyond T + 5 days.
2
Immediate Payment System (IMPS)
a
Account debited but the beneficiary account is not credited.
If unable to credit to beneficiary account, auto reversal (R) by the Beneficiary bank latest on T + 1 day.
₹100/- per day if delay is beyond T + 1 day.
3
Unified Payments Interface (UPI)
a
Account debited but the beneficiary account is not credited (transfer of funds).
If unable to credit the beneficiary account, auto reversal (R) by the Beneficiary bank latest on T + 1 day.
₹100/- per day if delay is beyond T + 1 day.
b
Account debited but transaction confirmation not received at merchant location (payment to merchant).
Auto-reversal within T + 5 days.
₹100/- per day if delay is beyond T + 5 days.
4
Prepaid Payment Instruments (PPIs) – Cards / Wallets
a
Off-Us transaction
The transaction will ride on UPI, card network, IMPS, etc. as the case may be. The TAT and compensation rule of respective system shall apply.
b
On-Us transaction
Beneficiary's PPI not credited.
PPI debited but transaction confirmation not received at merchant location.
Reversal effected in Remitter's account within T + 1 day.
₹100/- per day if delay is beyond T + 1 day.
* The aforesaid TAT shall be complied by Pine Labs to the extent applicable and may get affected due to dependencies on external factors or third parties which are beyond control of Pine Labs.
REVISION
This document will be reviewed annually by the Regulatory-Compliance team of Pine Labs. The policy may also be reviewed in case of any change in the Policy Guidelines as released by RBI. In case, any changes are approved, the same will be made available to staff / concerned personnel / contractors.
ENFORCEMENT
Violation of this policy may result in penalty/action by RBI.
Section: A
GRIEVANCE REDRESSAL FOR PAYMENT AGGREGATOR (PA) CUSTOMERS:
This section of policy is applicable to all the Customers availing the services of Pine Labs as Payment Aggregator.
Internal mechanism to handle Customer complaints/ grievances
For PA Customers, Pine Labs has a Customer Support Helpdesk distributed in two teams: Contact Centre (IVR), Plutus L2 services (Mails, Mobile App and Web) to address its Customers grievances.
Broad description of the Transaction Life Cycle.
Complaint Registration Process Flow (IVR, Mail, Web & My Plutus App)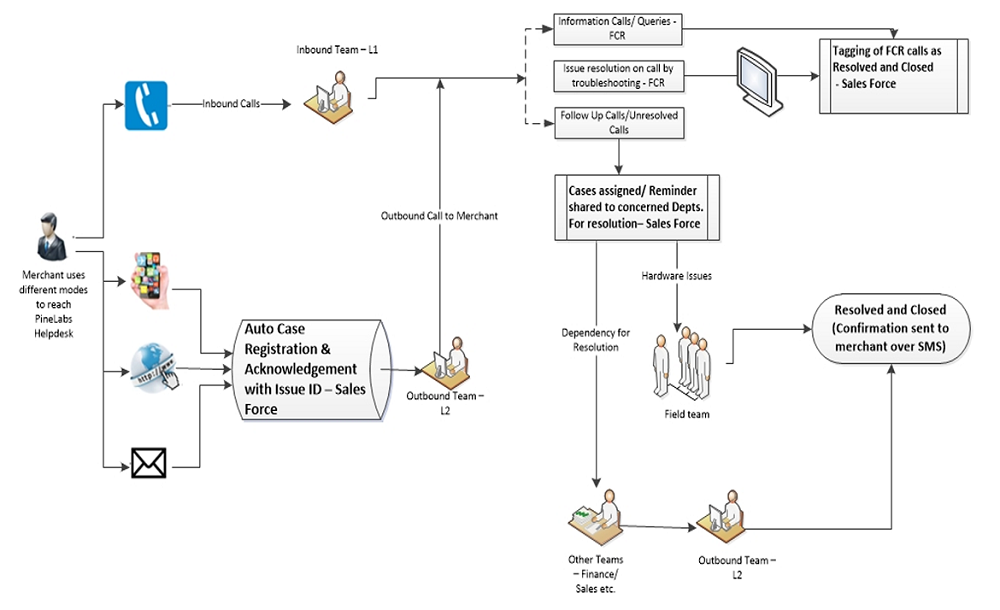 Broad Complaint / Grievance registration and touch points
Level 1.
1. Our Customers can register their grievances with us through various touch points:

Dedicated call center – 0120-4033600 And Toll - free Number 1800-258-6609
By writing an email to plutus.support@pinelabs.com
By Visiting website https://www.pinelabs.com/contact-support
Mobile App: My Plutus App
Customer can also contact Customer Care by sending letters through post/courier at
Candor TechSpace, 4th & 5th Floor,
Tower 6, Plot No. B2, Sector 62,
Noida, U.P.-201309

2. A dedicated team reviews all such grievances received and provides a resolution to the customer on priority basis. All such Grievances are entered into our Complaint Management System for further resolution.

3. An acknowledgement is sent/communicated to the Customer acknowledging his/ her complaint/grievance on receipt of the complaint/grievance.

4. If the Customer is not satisfied with the resolution provided by grievance cell, the Customer can go for next level of escalations.

Level 2

Customer Service (CS) Head

If a Customer needs to further escalate his/her complaint, he/she can write to the Customer Service Head @ cs.head@pinelabs.com.

With this multi-layered and robust grievance redressal mechanism, Pine Labsnot only focuses on redressal but also ensures that the gaps in process are identified and are rectified at grass root level.

Responsibilities of Customer Service Head

Review the grievances received and resolve in co-ordination with departmental heads
Liaise with respective functions for speedy closure of complaint.
Regularly review and suggest revisions (if needed) in the grievance handling procedures for Pine Labs
CS Head would share findings and relevant gaps in the existing processes and work with process owners to put in place corrective actions
To ensure that the Grievance Redressal Team is promptly handling all grievances received
Simultaneously, Grievance Cell logs an interaction in CRM.

Level 3

Nodal Officer

If the Customer is still not satisfied with the resolution provided by CS Head, he/she can approach Grievance Redressal Cell by writing to Nodal Officer.

Nodal Officer is a representative of Customer/ Merchant and ensures appropriate resolution by interfacing with different functions within Pine Labs.

Customer can contact Nodal Officer by email or by sending letters at below mentioned address:

Pine Labs Private Limited,
Plot No. B2, 4th & 5th Floor, Building 6,
Candor TechSpace, Sector 62,
Noida-201309
Email : rbi.nodalofficer@pinelabs.com

System Support & Tools for Grievance Management

Grievance management is supported by integrated CRM system. The main functionalities of the system are:

Complaint Recording and acknowledgement

All touch points can log a complaint through CRM system. The system generates a Complaint Reference Number which is communicated to the Customer.

Process for resolution and tracking of Complaint

Once all touch points log the complaints in the system, the complaint status can be tracked by various stakeholders at any given point of time. The current CRM sends escalations to the next level in case the complaint is not resolved. MIS is also being getting shared with all the relevant stakeholders keeping them informed about the total number of complaints open and their TAT. The complaint is then resolved by the respective process owners. The resolution by the respective process owners is also communicated to the Customer.

Turnaround time for complaints and escalations

In case Customer/ Merchant approach us through any of our contact channel for queries or complaints, or approach our corporate center, we shall initiate a confirmation of the query logged either through phone / email/ SMS immediately and the same shall get resolved either as a First Call resolution (FCR) within 24 hours or it is assigned to concerned department on priority on the basis of the nature of request/complaint. Further, at each level, the complaint will be resolved with- in 15 business days subject to any external factors not in the control of Pine Labs

Review of MIS basis Complaint Category, Classification, Turnaround time and by Location

Periodic MIS review based on complaint category, classification, turnaround time and location is carried out.

CONTROL REFERENCE

Guidelines on Regulation of Payment Aggregators and Payment Gateways issued vide RBI/DPSS/2019-20/174 DPSS.CO.PD.No.1810/02.14.008/2019-20 March 17, 2020

Reserve Bank of India (RBI) circular DPSS.CO.PD.No.1102/02.14.08/2009-10 dated November 24, 2009

RBI Circular DPSS.CO.PD No.629 / 02.01.014 / 2019-20 dated September 20, 2019

Section: B

GRIEVANCE REDRESSAL FOR PPI CUSTOMERS

This section of policy is applicable to all the Customers availing the products/services offered via business vertical - Pine Perks of Pine Labs.

1. GRIEVANCE REDRESSAL AWARENESS

Publicizing redressal mechanism:

The grievance redressal mechanism is appropriately displayed on the Pine Perk's website and mobile application to spread its awareness among its customers.

2. GRIEVANCE REDRESSAL MECHANISM

Complaint Channels:

Customer Care number as displayed on the Pine Perks website and the mobile application: [Interactive voice response (IVR)]
Online grievances through the Customer Support email id: support@pineperks.in
Mobile application / Website 'Contact Us' form

Complaint Ticket:

The Customer will be given an acknowledgement/ticket number of his/her complaint within 1 working day from the date of receipt of the Complaint
All customer complaints received through digital channels will be acknowledged through an email along with a need-based intimation to the Nodal Officer.

Complaint Tracking:

An automated system is used to digitally record the customer complaints received through multiple channels, which will also be accessible to the entire customer service department to monitor and update the status of each complaint.
Each of these complaints will be assigned a unique tracking number which will be shared with the Customer for future reference and monitoring purposes.

Complaint Resolution Timelines

For general complaints, resolution shall be done as per the timelines mentioned in the escalation matrix below under point 4.
PINE PERKS CHARGES AND FEES

Standard Charges, Fees and Validity Period associated with pre-paid instruments are given below:

| Type of Instrument | Card-issue charges (in Rupees) | Card re-issuance charges (in Rupees) | Annual Maintenance charges (in Rupees) | Validity Period |
| --- | --- | --- | --- | --- |
| Meal Card | 100 | 100 | 200 | Up to 5 years |
| Gift Card | 100 | 100 | 200 | 15 months |
| Pine Perks Rupay Gift Cards | 100 | 100 | 200 | 16 months |

Please note: There may be transaction fees at special merchant categories such as fuel stations etc. These charges will be applicable to the Customer/purchasers of the respective instruments and are subject to change

LIABILITY IN CASE OF UNAUTHORISED/FRAUDULENT TRANSACTIONS

Customers should register themselves for SMS and e-mail alerts, for electronic payment transactions. Customers are advised to keep their prepaid instruments and its credentials secure at all times and not share it with third parties. In case the Customers / card holder believes that the credentials have been compromised or resulted into misuse of the instrument, they can reach out to Pine Labs customer support with a request to block the card immediately / regenerate the credentials. Pine Labs shall take the request and block the card immediately subject to the Customer providing the card number. However, Pine Labs shall only reissue the card on successful submission of ownership of the card by the cardholder.

CUSTOMER LIABILITY IN CASE OF UNAUTHORISED ELECTRONIC PAYMENT TRANSACTIONS THROUGH PINE LABS PVT LTD- PPI
Sr. No.
Particulars
Maximum Liability of Customer
(a)
Contributory fraud / negligence / deficiency on the part of Pine Labs (irrespective of whether or not the transaction is reported by the Customer)
Zero
(b)
Third party breach where the deficiency lies neither with Pine Labs nor with the Customer but lies elsewhere in the system, and the Customer notifies Pine Labs regarding the unauthorised payment transaction. The per transaction customer liability in such cases will depend on the number of days lapsed between the receipt of transaction communication by the customer from Pine Labs and the reporting of unauthorised transaction by the customer to Pine Labs
i. Within three days#
Zero
ii. Within four to seven days#
Transaction value or ₹10,000/- per transaction, whichever is lower
iii. Beyond seven days#
Transaction values
(c)
In cases where the loss is due to negligence by a Customer, such as where he / she has shared the payment credentials, the customer will bear the entire loss until he / she reports the unauthorised transaction to Pine Labs. Any loss occurring after the reporting of the unauthorised transaction shall be borne by Pine Labs.
(d)
Pine Labs may also, at its discretion, decide to waive off any customer liability in case of unauthorised electronic payment transactions even in cases of customer negligence. # The number of days mentioned above shall be counted excluding the date of receiving the communication from Pine Labs.

4. BROAD CUSTOMER COMPLAINT MECHANISM WITH ESCALATION MATRIX

Level 1

Estimated timelines at various levels of queries/escalations:

First response to a Customer's query/concern – within 48 working hours
Follow-up queries - 3 working days (Post 1st Response to customer)
Escalated cases - 7 working days (Post follow up queries TAT)
Customer grievances raised to Nodal officer - 15 working days

Level 2

If the Customer's issue is not resolved even after contacting various complaint resolution channels or if the customer is not satisfied with the response, he/she can reach out to the Customer Service Head.
Pine Labs Private Limited,
Plot No. B2, 4th & 5th Floor, Building 6,
Candor TechSpace, Sector 62,
Noida-201309
Email id: cs.head@pinelabs.com
In the event any additional time is needed to resolve a Customer's complaint, Pine Perks will inform the customer the reasons for such delay and provide expected timelines for the resolution of the complaint.
If the complainant is entitled to any compensation as a result of resolving the complaint, the compensation will be paid to the complainant as follows:
Rs. 500 or 50% of the transaction amount, whichever is lower

Level 3

If the Customer's issue is not resolved even after contacting Customer Service Head or if the Customer is not satisfied with the response, he/she can reach out to Nodal Officer appointed by Pine Labs.
Pine Labs Private Limited
Plot No. B2, 4th & 5th Floor, Building 6,
Candor TechSpace, Sector 62,
Noida - 201309
Email : rbi.nodalofficer@pinelabs.com

5. CONTROL REFERENCE

RBI Master Direction - Master Direction DPSS.CO.PD.No.1164/02.14.006/2017-18, Dated: Oct 11th, 2017
RBI Circular No. RBI/2018-19/101 DPSS.CO.PD.No.1417/02.14.006/2018-19, Dated : January 4th 2019 for Customer Protection – Limiting Liability of Customers in Unauthorised Electronic Payment Transactions in Prepaid Payment Instruments (PPIs) issued by Authorised Non-banks.